How to choose a coffee machine?
Using a coffee machine is the simplest way to prepare a perfect coffee drink. With so many different coffee machines in the market, it's very hard to choose the right one. What type of machine is the best one for you? Which one will prepare a perfect cup of coffee?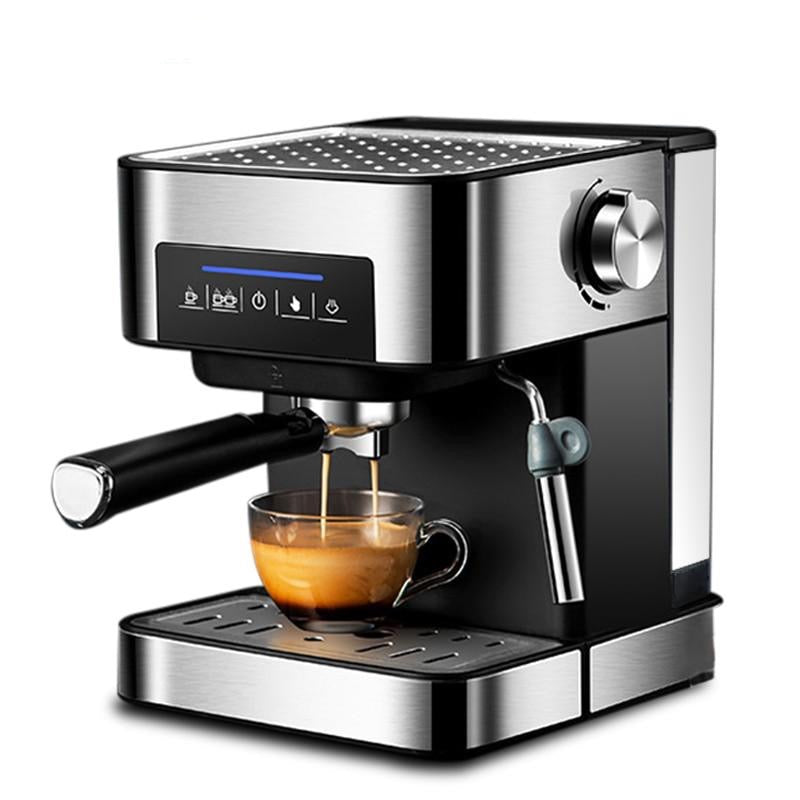 The concept of perfection in this case is relative, because everyone has different taste preferences, that's why there is no accounting for taste. Producers seem most aware of this and therefore adjust their offers to fit everyone's needs. Because the variety of coffee tastes is so great, we have many different ways to prepare it, for example some people like their coffee plain black, brewed traditionally and others love milky cappuccino prepared under pressure.

If you are currently looking for a perfect coffee machine for yourself, we recommend you to read this short guide. In a very easy way we'll try to explain aspects that are worth considering before making a final decision. Let's start from answering a few important questions, such as: what coffee do you usually prepare (black or with milk), how (traditionally or under pressure) and the amount of money you want to spend on this purchase.

On the market, there are several types of Casara single cup coffee maker which differ in the method of preparation, and thus—the price. The easiest way would be to introduce these types of appliances, their advantages and disadvantages, so that you can make up your mind and choose something that fits your personal needs.
Filter coffee machines
How to choose a coffee machine. The Coffee Mate

Let's start from the beginning—coffee makers. Prepare a cup of coffee with a filter coffee maker and you'll notice that it tastes similar to the "Turkish coffee" (ground coffee flooded with boiling water). However, in this case a coffee maker saves you the trouble of coffee dregs—thanks to the filter.

A filter coffee maker consists of:

Water tank (with a capacity of 0.3 to 2 litres);
Container for coffee;
Filter (the most common is disposable paper or integrated (fixed) filter in the form of a grid, which after each use should be thoroughly washed);
Jug (usually made of glass or heat-resistant steel thermos to keep coffee hot for longer);
Hob (heating plate) which maintains the temperature of the coffee.
Filter coffee machines are very easy to use. Just pour the right amount of ground coffee into a container with filter and press the button. Hot water is poured on the ground coffee and slowly filtered into the pot at the bottom. Such infusion method results in more caffeine in your prepared drink, than you'd extract using a pressure coffee machine.

Advantages of filter coffee makers:

Low price. They are cheap and the main cost of their use is inexpensive paper filters;
The heating plate, located under the jug, keeps brewed coffee hot for longer (for thermos—up to 4 hours);
Can prepare multiple servings of coffee at a time;
Ability to prepare not only coffee, but also tea and infusions of herbs.
Disadvantages of coffee makers:

They use only ground coffee, so if you want to have a drink from freshly ground beans, you have to have a coffee grinder;
The process of preparing coffee needs some effort (usually requires buying and replacing or cleaning the filter) and is quite long (takes about 10 – 15 minutes);
Not the best in terms of preparing small quantities of beverage (e.g. one portion);
Smaller variety of prepared coffee drinks—no option to prepare coffee with milk (milk has to be frothed or heated separately);
Only some coffee makers have the ability to adjust the strength of your coffee;
Brewed coffee contains toxins (bitter substances and acids) and has a high content of caffeine (almost two times more than coffee prepared with a pressure coffee machine);
Lower quality of coffee drink (will not not good enough for gourmets).
The most popular producers of filter coffee machines: De'Longi, Bosch, Siemens, Gastroback, Melitta.


Moka coffee makers
How to choose a coffee machine. The Coffee Mate

Moka coffee maker is the simplest way to prepare a coffee drink with the use of pressure. It's a low-pressure coffee maker and prepares the traditional Italian coffee. The beverage has a strong, aromatic (sometimes slightly sour) taste and doesn't have crema characteristics of espresso.

It consists of a pot for coffee drink which is placed on the filter for ground coffee (in the middle) and the water tank on the bottom. This coffee maker is usually made of aluminium (cheaper) or steel (more durable and more expensive). They can also be "combined", e.g. steel bottom part and porcelain upper part—the pot for brewed coffee.

How to prepare coffee? Pour required amount of water into the bottom container and pour ground coffee into the filter. Precisely put all 3 parts together and place the coffee maker on the stove, bring the water to a boil. The pressure generated by the resulting steam causes the water to go through ground coffee to the upper pot. This way you can prepare from 1 to 6 cups of coffee at once (one cup is approx. 40 ml), depending on the size of your Aeropress coffee and espresso maker.

Brewing coffee with this method takes from 5 to 15 minutes (depending on the amount of portions). A coffee maker should be set on low heat. If you have an induction cooker, you should obtain a coffee maker specially adapted for it. There are also electric moka coffee makers which have a heating base. Often, they are equipped with a timer function that allows you to program the appliance. Thanks to this, coffee can be prepared at a specific time. Another interesting feature is the "Mukka Express" (made by Italian company "Bialetti"), which is used to prepare cappuccino.

A disadvantage of these coffee makers is quite laborious and time-consuming preparation of coffee, as well as more complex care of the device. Its' biggest advantage is the low purchase price and basically no maintenance costs.
Espresso (pressure) coffee machines
Coffee brewed in espresso coffee machine has a deep flavour and rich aroma. It's believed that it is the best way to prepare a perfect cup of coffee—only the best properties are extracted from your beans of choice and transferred into the drink during preparation. It's also the healthiest way—drink doesn't contain toxic substances that can irritate the stomach and is easier absorbed than coffee prepared by other methods. The main task of the appliance is preparing the best espresso coffee (under pressure). A formula for an ideal espresso (developed by the Italians) is 7/9/25/25/88-92. That means 7 grams of ground coffee at a pressure of 9 bars is run by 25 ml of water for 25 seconds at a temperature 88 – 92° C. At a first glance, a good espresso provides a dense foam in the colour of walnut, called crema.


Semi–automatic coffee machines
How to choose a coffee machine. The Coffee Mate

Those who like to take an active part in the ritual of coffee making, should pay attention to the semi-automatic coffee machines. They are divided into domestic and professional categories. In both cases, they use ground coffee. In models that have the E.S.E. system (Easy Serving Espresso), you can also use coffee pods. This is a practical solution, because it eliminates the need of measuring and pressing ground coffee. It's also cleaner—no spilled or used dregs to take care of. However, the quality of the beverage may be inferior compared to that prepared with freshly ground coffee.

Semi-automatic coffee machines have a portafilter, in which there is a filter. It can be single—for one serving, or double. Ground coffee (in proper quantity) is poured into the filter and must be carefully compressed (preferably with a special tamper). This is very important, because wrong pressing will cause the water to go through the grounds too fast (brewing will be too quick) or too slow (coffee will be dripping instead of flowing to the cup). Both problems will result in bad quality of prepared coffee drink—no desired values of taste and smell. After each brewing, the filter must be removed and cleaned.

The most common heating element in semi-automatic espresso machines is boiler. The boiler heats water by heating a certain element placed inside or outside the boiler. Capacity of boilers generally do not exceed half a litre (usually it's 150 to 330 ml). Hot water goes through ground coffee (typically under 9 bar pressure) and then through the coffee dispenser (spout) flows straight into a cup.

Most of semi-automatic coffee machines are equipped with a special device—mechanical milk frother, so-called panarello, which is used to froth the milk and allows to prepare white coffee drinks—cappuccino or latte.

The selection of semi-automatic coffee machines is quite large. Depending on the brewing unit, a machine can prepare beverages at a different power. These type of coffee machines for home use are quite cheap. Their prices typically range from £40 to £300. The most well-known manufacturers here are De'Longhi, Krups, Saeco. If you are looking for a more professional machine, more reliable, with better brewing unit, and with temperature control, you might be interested in the Italian company Lelit. On the other hand, if you consider yourself as real barista and you want to use different "tricks", then you better choose among producers like Cime, Graef, and Nuova Simonelli. However, these professional machines are much more expensive than those designed to use at home.

"Manual" coffee preparation and milk frothing in semi-automatic coffee machines can be considered as their advantage or disadvantage depending on your preferences. Maintenance of the device is also quite laborious, but their big advantage when comparing to automatic machines is the low price.


Combination Coffee Espresso Machines
How to choose a coffee machine. The Coffee Mate

Combo coffee machines allow you to prepare coffee using filter or pressure method. They have two separate brewing elements—one for espresso and another one for regular black coffee. This is useful if you want to prepare one or two servings of espresso, as well as a larger amount of coffee at the same time, e.g. in case of guests.

Depending on the model, combos can be equipped with various additional functions, such as:

Timer—allows you to set the time at which coffee is brewed;
Automatic dosing of water and coffee;
Power regulation—coffee can be weaker or stronger;
Self-cleaning—however periodical descaling will have to be do manually;
Nozzle for frothing the milk—to prepare a cappuccino or latte;
Water filter—improves the taste of coffee beverage and protects the machine from limescale;
LCD display—informs about the activities performed and displays messages.

Capsule coffee machines
How to choose a coffee machine. The Coffee Mate

Capsule coffee machines are automatic espresso machines. Their main feature is that they use special coffee in capsules. Using and maintaining these machines is extremely simple. To prepare a cup of coffee you simply need to insert the capsule, place a cup under the coffee spout, press the button and wait a few seconds—your cup of coffee is ready! After preparing several portions, empty container with used capsules. Many models can also use tea and hot chocolate in capsules.

Here are some things you should pay attention when choosing a capsule coffee machine:

Coffee with milk—if you like white coffee, it can be done in two ways—from the capsules with powdered milk (you will have to buy special capsules, for example cappuccino or latte ones) or from fresh milk, however then you should opt of a more expensive model with a milk frother.
Pressure—the higher the pressure, the more aromatic and stronger your coffee drink will be. To prepare a tasty espresso just 9 bar pressure is enough. Capsules are produced mainly with the pressure of 15 to19 bars, but it can be less.
Water tank—depending on your household needs, you can choose the water tank with capacity of 0.5-1 litre. In some models, it is also possible to use the built-in water filter, which improves the taste of coffee and protects the machine from limescale.
Additional functions—generally these machines have a standard set of parameters for correct preparation, but if someone in your household has different taste preferences, you can purchase a model with adjustable features, e.g. the strength and amount of your coffee, as well as the functions of automatic cleaning and descaling.
Design—the look of these machines is quite distinctive. It can be very modern or rather retro style. Also, usually they come in a great variety of colours, so nobody will have a hard time choosing a model that fits perfectly in their interior.
Advantages of capsule coffee machines:

Relatively low purchase price;
Simple to use and maintain;
Variety of flavours—coffee capsules come in many different flavours, for example: vanilla, chocolate, caramel or exotic fruit, also you can have capsules with tea or hot chocolate;
Small size and a large variety of design and colour options.
Disadvantages of capsule coffee machines:

Relatively high price of coffee capsules—coffee portion costs more compared to other coffee machines,
Dependence from a brand—choosing manufacturer of a machine usually means that you'll be stuck using capsules only from the same manufacturer;
Worse taste of the drink—many believe that the taste of the coffee from capsules is insufficient, because the best drink is made from freshly ground coffee beans;
Questionable reliability—capsule coffee machines tend to break quite often, hence they are considered quite unreliable.
To sum up, capsule coffee machines are the best for those, who want to prepare their coffee very easily and quickly, who like variety and do not have high requirements for quality or flavour. Low price and small size are additional arguments.

Most popular manufacturers of these machines are De'Longi, Krups, NESCAFÉ Dolce Gusto and Nespresso®.


Pad coffee machines
How to choose a coffee machine. The Coffee Mate

Pad coffee machines are mainly Senseo type. Using them is very similar to the capsule machines. Ground coffee is hermetically packed in a special sachet (so-called pad) that makes it much cheaper than capsules. Also, they come in a large selection of flavours. These machines require minimal maintenance as well. Thanks to the advanced technology, you can adjust the strength of your coffee. Integrated clear touch screen makes it very easy to use. These machines prepare aromatic and full-flavoured coffee (1 or 2 cups at a time), even with milk, if you purchase a model with milk frothing system, e.g. Saeco Senseo "Latte Duo HD7855".

Another similarity with capsule espresso machines is their small size and attractive design with a wide selection of colours.

Most popular manufacturers of pad coffee machines are Philips, WMF and Handpresso—portable coffee machine which can be used even in a car or on a picnic.


Automatic coffee machines with built–in grinder
How to choose a coffee machine. The Coffee Mate

The easiest way to prepare tasty and aromatic coffee is by using an automatic bean-to-cup coffee machine. That's why this type of coffee machines are currently the most popular, however they are the most expensive. Their main characteristic is a built-in grinder which grinds required amount of coffee beans right before making a cup of coffee. These machines are the most technologically advanced and allow to prepare various types of coffees, even something quite complex like latte macchiato, with one touch of a button. Their disadvantage is certainly a high price, bigger size and required daily, periodic maintenance. Coffee gourmets often accuse these devices of being too automated, but those who like an easy and effortless process, consider it as an advantage, because of convenience and time saving.

Any automatic machine will prepare an espresso and black coffee, additionally it can be equipped with milk frother for coffee with milk options. This may be an external frothing nozzle (manual frother, so called panarello)—the cheapest option, or they can have an automatic system (so-called cappuccinatore), which allows to prepare coffee with milk, such as cappuccino or latte macchiato, with the touch of a button.

It is known that coffee beverage prepared from freshly ground beans is the best. If you have already decided to buy an automatic coffee machine with built-in grinder, you need to think about what to look for when choosing a particular model.

Built-in grinder—to freshly grind your beans, however there's usually an option to use pre-ground coffee too. The espresso machines for domestic use are equipped with ceramic or steel mills. Ceramic grinders (used by manufacturers as Saeco, Phillips, Bosch, Siemens) are quieter and steel mills (Jura, NIVONA, Mellita, DeLonghi, Krups) are more durable. In addition, producers highlight more advantages and disadvantages of both types, but in reality, both are quite equally good. It's worth to mention that these machines have a feature to adjust the coffee strength. A full bean container is usually enough to make multiple portions and it is specially sealed, so the beans wouldn't get moist or lose the aroma even if kept in the container for a while.

Water filter—to make your coffee drink exceptionally tasty, it must be prepared with fresh water of good quality. We recommend using bottled drinking water (not mineral!) or filtered water. The best solution is to use a water filter placed directly in the water tank. Almost all automatic coffee machines have such possibility, just make sure to use the appropriate filter according to your manufacturer's recommendations. The filter not only improves the taste of water (and thus the coffee), but also protects the machine from limescale which significantly affects your machine's reliability and durability.

Heating element—automatic machines for home use usually have thermo-block. They heat the water to a suitable temperature while it's flowing.

Pump is responsible for maintaining an appropriate pressure while the water flows through ground coffee. Usually manufacturers establish the pressure of 12 to 19 bars (e.g. Siemens). The pressure needed to brew a proper espresso is about 9-10 bars.

Adjustment—to get the perfect cup of coffee you will very likely need to tweak those manufacturer settings. Higher class models come with advanced electronics which help to adjust and control the entire process. The automatic espresso machines can be controlled by setting the appropriate parameters on the electronic panel. In order to adjust parameters, you'll need not only to read the manual carefully, but also to have some basic knowledge of proper coffee brewing.

For personalized coffee recipes, you can use device settings. Most of the automatic coffee machines have the option to change parameters such as grinding level, water temperature, power (the amount of ground grains) and volume of the coffee beverage. These settings allow you to prepare coffee according to individual preferences. Many coffee machines are equipped with a memory function which allows you to program the settings, so next time your favourite coffee recipe can be prepared with a single touch of a button.

Double grinding and brewing—an option that may be important for strong coffee lovers. Many higher-class coffee machines have a function to prepare a very strong cup of coffee. They use two of grinding and brewing processes and manage to achieve strength without bitterness, loss of flavour or unpleasant aftertaste. For example, Siemens calls it "aromaDouble Shot" and Jura—"Aroma Boost".

Frothing the milk—generally, an automatic coffee machine can be equipped with one of three types of milk frothers. If you prepare coffee with milk only occasionally, you can purchase a cheaper coffee with a manual frother (panarello). It's a metal nozzle which produces steam. You immerse the tip into a cup (or jug) with milk and let the steam do the job.

For white coffee lovers, a much better solution would be an automatic cappuccinatore. It sucks the milk directly from the milk pack or special milk container through a specially designed tube, heats it up and froths it. Frothed hot milk foam is then poured directly into a glass. There can be 2 types of frothers. A cheaper option when the milk foam has a separate spout and a more expensive option when milk and coffee flow down from the same spout (so-called "OneTouch Function" in coffee machine like Siemens, Bosh, Jura, NIVONA, Melitta).

You can also choose a model with integrated milk container (Saeco here uses the name "Touch2Cappuccino"). Coffee machines that have integrated milk container will suck milk by itself out of a special container, heat it, froth it and pour the foam straight into your cup. The container is designed so that after each brewing it can be easily removed and stored in the fridge. You should keep in mind to wash the container regularly.

Automatic cleaning is a big advantage of automatic coffee machines. Coffee grounds travel to the special grounds container which you should empty and rise once it's full, e.g. after preparing 15 servings of coffee. First-class devices are equipped with functions for not only periodic automatic cleaning and descaling, but also flushing of the pipes after each brewing process (e.g. the "singlePortion Cleaning" in Siemens). Periodic maintenance in such case comes down to starting the cleaning program when machine asks for it (by showing an appropriate message on the display screen). For example, Siemens has developed the "calc'nClean" program which cleans and descales in one cycle. All you have to do is select the program and press a button.

Energy saving is another useful characteristic of the latest generation automatic coffee machines. You can set the automatic power-saving mode (Jura – "Energy-Saving Mode") and program the time when your machine should turn off. Jura company went even further and equipped their machines with a patented "Zero-Energy Switch" which guarantees the highest energy efficiency class.

Intuitive control and design makes it extremely easy to use a coffee machine. Even somebody with no experience will have no problems to prepare a cup of coffee. Highest class machines have displays, often in many languages, as well as modern, easy-to-use touch screens. Such complicated drink as latte macchiato can be prepared with a single touch of a button.

How to choose a coffee machine. The Coffee Mate

It is worth to mention that automatic coffee machines for home use are produced not only in the standalone version (in many sizes and colours), but also are available in built-in version. If someone has a kitchen with built-in oven, microwave, or any other appliances, they may want to also purchase a coffee maker in the same style. Unfortunately, these models are more difficult to clean and a bit more expensive, but they have a direct connection to constant water supply and most importantly they do not take up valuable space on the kitchen counter.

Automatic coffee machines are also produced for offices and commercial use. These models are larger (they have bigger water and coffee bean containers) and more powerful—adapted for the preparation of large daily quantities. Some also have a connection to direct water supply. Besides, you can buy a milk cooler to go with your machine (they will keep milk fresh and cool without having to put it back in the fridge after every cup of coffee with milk), or a cup warmer (warm cup will maintain the right coffee temperature for longer).

Prices of automatic coffee machines are very different, because they range from a thousand to several thousands. Price depends primarily on fulfilment, the materials (plastic / steel), type of integrated grinder, type of milk frother, purpose (domestic or commercial use), the type of control panel (buttons or touch screen TFT), technological advancement, and quantity of additional features.

To sum up, the main advantages of an automatic espresso machine with integrated grinder are:

Convenient, easy and quick preparation of delicious coffee from freshly ground beans;
Intuitive control;
Preparing any coffee drink with milk with a touch of a button;
Coffee prepared at high pressure is healthier;
Easy maintenance with automatic cleaning and descaling programs;
Many additional features to facilitate the use;
Energy saving.
The disadvantages of automatic coffees machine is their relatively high price and requirement to use maintenance products.

It's also good to know that depending on the type of coffee machine you have, you should choose the right level of coffee grinding. In general, the rule is:

Filter coffee machine—coarsely ground beans;
Moka coffee maker—medium ground;
Automatic coffee machine—finely ground.
Automatic coffee machines will automatically "know" how to grind your coffee beans, but you can set up grinding level by yourself (if your machine has this feature). In general, what coffee to choose and what factors affect the taste of the drink is a very wide topic which we will discuss sometime later.

If you have a coffee machine, you can't forget about its maintenance. It is divided into daily (like emptying the coffee grounds container and washing the drip tray) and periodic (running the programs of automatic cleaning and descaling) care. The only thing you need to do is obtain the appropriate maintenance products, such as descaling liquid or tablets, antibacterial cleaning liquid and lubricant for coffee machine's press.

We understand that the decision of purchasing a coffee machine is not easy. There are many machines to choose from and if you still have any doubts or questions about which one would fit your needs the best, you can always write or call us and we will happily help you out!